1000ft Cat6 Network Cable Outdoor Direct Burial 23AWG Solid Bulk Ethernet Wire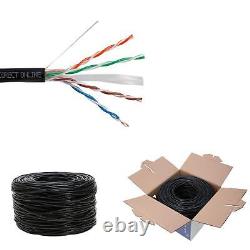 Cat6 1000ft Bulk Cable Pull Box. 23AWG 4 unshielded twisted pairs. Wooden Spool in a box with multiconductor cable reduces need to pull multiple wires for easy installation. Solid core conductors for long runs performance. Cat6 cables are perfect for all your high speed networking applications. With blazing speeds up to 500MHz, you can connect all your WAN/LAN segments to all your networking gear and run full throttle without any bottlenecked lines. Great for all high bandwidth applications like VOIP and Gigabit networks.
Cat-6 cables and connectors are made to higher standards featuring thicker gauge conduits and isolation spleens that reduce crosstalk and system noise.